Herb Specifications
Season: Annual
USDA Zones: 5 - 9
Height: 10 - 20 inches
Bloom Season: Mid spring to mid summer
Bloom Color: White
Environment: Full sun to full shade
Soil Type: Nutrionally poor, moist soil
Planting Directions
Temperature: 55 - 60F
Average Germ Time: 7 - 10 days
Light Required: No
Depth: 1/4 inch
Sowing Rate: 15 - 20 seeds per plant
Moisture: Keep seeds moist until germination
Plant Spacing: 9 - 12 inches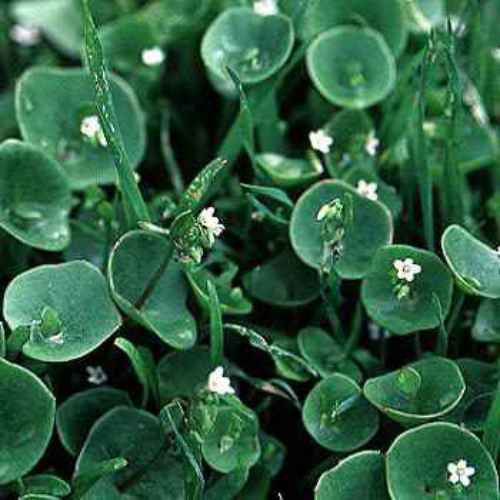 Winter Purslane (Claytonia Perfoliata) - A must-have for the herb garden is Winter Purslane, and it's so easy to grow from herb seeds! Other names are Indian Lettuce and Miner's Lettuce which was given to the herb plant because it was eaten in great quantities as a salad green during the gold rush years. It is rich in Vitamin C so it helps prevent scurvy, and it is a native to the west coast of North America and was in great supply in the winter months. The Winter Purslane plant is considered to be both a medicinal herb as well as a culinary herb, and it is so easy and rewarding to grow!
Winter Purslane is a hardy, frost-tolerant herb plant. The leaves are succulent and have a fairly neutral, fresh taste. The flavor is best before the plant flowers, so cut the leaves when they are young if they are for salads. The flowers will form on stems, and they are small, white and in clusters. The Winter Purslane herb loves to be harvested! Cut the leaves and more will be produced. It is a prolific self-sower. Many herb gardeners prefer to grow it in a container to keep it from spreading too much. Keep the container near the kitchen for easy access. Miner's Lettuce plants are great herbs to enjoy nearly year round!
How To Grow Winter Purslane: Start the Miner's Lettuce seeds indoors 4 weeks before the end of frost season, or start the herb seeds directly in your garden after danger of frost has passed. The herb seeds are very small, so gently press them into the soil but do not cover them. Keep the seeds moist until germination. Purslane plants will thrive in just about any soil. The herb prefers a sunny location.