Grass Specifications
Season: Perennial
USDA Zones: 4 - 9
Height: 98 inches
Width: 48 inches
Foliage Color: Green
Flower Color: Silvery
Growth Rate: Moderate
Fall Color: No change
Soil Requirement: Well drained
Environment: Full sun
Planting Directions
Temperature: 68F
Average Germ Time: 2 - 3 weeks
Light Required: Yes
Depth: Surface sow, do not cover
Sowing Rate: 4 - 5 seeds per plant
Moisture: Keep seeds moist until germination
Plant Spacing: 36 - 48 inches
Care & Maintenance: See: Miscanthus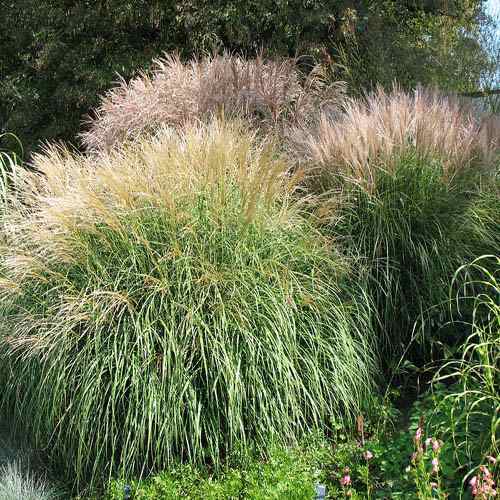 Chinese Silver Grass (Miscanthus sinensis) - Grown from Miscanthus sinensis seeds, Chinese Silver Grass is one of the easiest and most adaptable ornamental grasses to grow. Commonly called Maiden Grass or Eulalia Grass, this ornamental sports long, silky tresses of shining silvery-cream all summer long. In autumn, the cold weather turns them deep gold, for a long-lasting colorful display in the landscape or the vase.
Select the spot for Miscanthus sinensis Chinese Silver Grass carefully as it will reach up to 98 inches tall and spread 36 inches wide in the sunny garden. This perennial ornamental grass is useful as a screen, hedge, or specimen planting. It has a clump forming habit in which the leaves grow up and then cascade out and down like a fountain. The plumes arch over slightly, creating a lovely rippled effect in the breeze.
How To Grow Chinese Silver Grass From Ornamental Grass Seeds: Start Chinese Silver Grass seeds indoors in the early spring. Use small pots filled with seed starting mix. Place the ornamental grass seeds onto the soil, gently press the seeds into the soil and keep them moist. Transplant outdoors once soil temperatures have warmed and frost danger has passed. Ornamental grass care includes cutting the old foliage back to the ground before spring to let the new foliage emerge. Miscanthus has no frequently occurring disease or pest problems, and is very hardy once established.