Season: Annual
USDA Zones: 3 - 10
Height: 36 - 48 inches
Bloom Season: Summer and fall
Bloom Color: Mix
Environment: Full sun
Soil Type: Well-drained, pH 5.5 - 6.5
Deer Resistant: No
House Plant: No
Latin Name: Dahlia Variabilis


Dahlia (Dahlia Variabilis Pompon) - Don't forget Dahlia seeds! They are easy-to-grow and so versatile in the landscape. This variety with small double flowered pompons and a bright color mix is an asset to the border where they will create an outstanding focal point. The flowers are ideal for cutting as well. A single plant, grown from flower seed, will produce plenty of flowers for many bouquets. It's a classic cut flower with tubular looking petals. The individual blooms may be small, but they are perfectly formed and can be appreciated in a vase. The flowers also look wonderful in the border and contrast nicely with shrubs and ornamental grasses.
Grow Dahlia Variabilis in an area that has a minimum of six hours of sunlight. They thrive when the temperatures climb, and they will be profuse bloomers until the first frost. Well-draining, rich and fertile soil that is slightly acidic is a must for growing Dahlias. Sow the flower seed indoors 4 - 6 weeks before the last frost. Lightly cover the seeds with soil or peat moss only the thickness of the seed itself. Transplant seedlings outdoors after danger of frost has passed.
Beautiful Cut Flower
Dahlias produce gorgeous blooms atop tall, thick stems, making them superb for cut arrangements!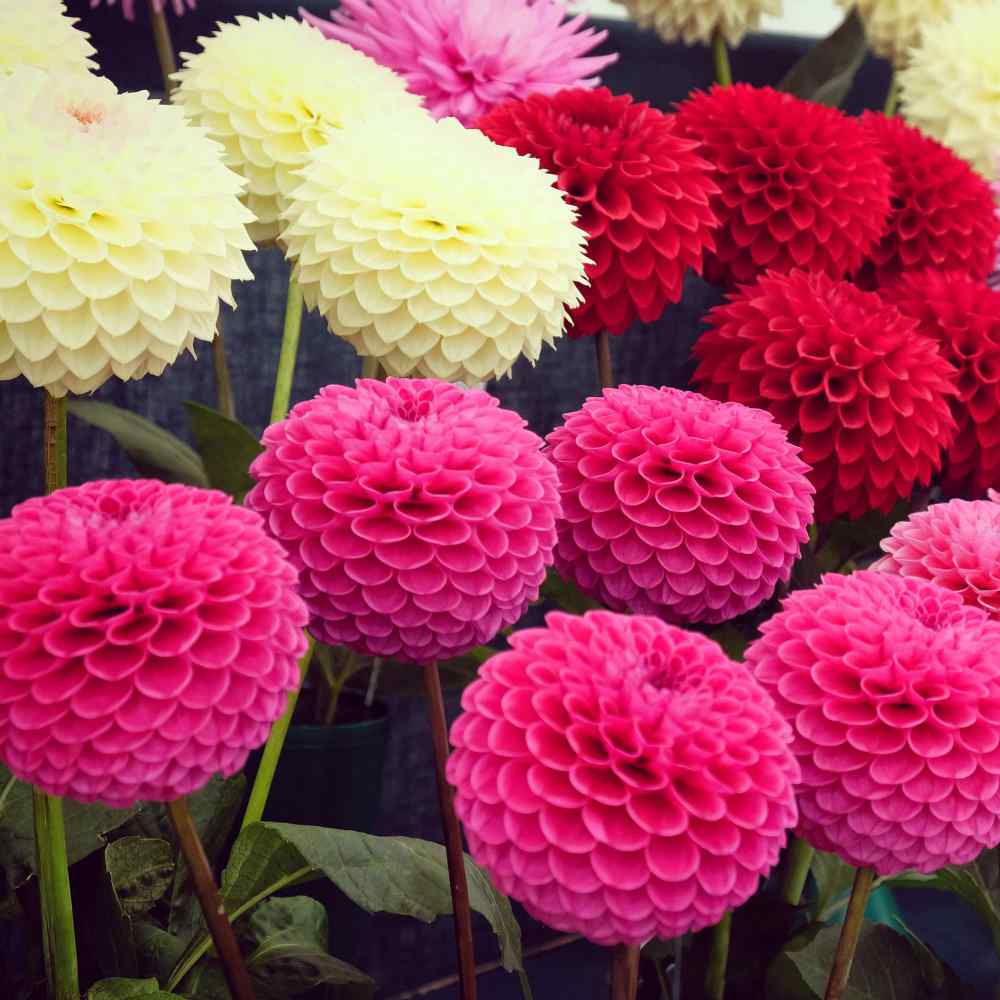 Heat-Resistant Cut Flower
How to Grow
Dahlia seeds need to be planted in well-drained soil that is rich and fertile. Sow seeds indoors 4-6 weeks before the last expected frost. These seeds should only be planted at a depth equal to their own thickness. Lightly cover with soil or peat moss. After all danger of frost has passed, seedlings can be transplanted outdoors directly into the garden or containers. Dahlia care includes deadheading spent blooms to ensure a continuous supply of fresh flowers. Apply a high nitrogen liquid fertilizer weekly in early summer, then a high potash fertilizer every week from midsummer to early autumn.
Environment: full sun
Soil: well-drained w' pH 5.5-6.5
Sowing rate: 2-3 seeds per plant
Plant Specifications
Dahlias are annual flowering plants that grow in USDA zones 3 through 10. They are extremely popular show flowers, and provide excellent displays of full, vibrant blooms in the garden and landscape.
Bloom color: rose
Bloom season: summer and fall
Plant height: 36-48 inches