Flower Specifications
Season: Biennial
USDA Zones: 4 - 8
Height: 24 - 36 inches
Bloom Season: Early summer
Bloom Color: Mix
Environment: Full sun to partial shade
Soil Type: Well-drained, pH 5.8 - 7.2
Deer Resistant: Yes
Planting Directions
Temperature: 65 - 70F
Average Germ Time: 20 - 30 days
Light Required: No
Depth: Do not cover the seed but tightly press into the soil
Sowing Rate: 4 - 6 seeds per plant
Moisture: Keep seeds moist until germination
Plant Spacing: 12 - 18 inches
Care & Maintenance: See: Foxglove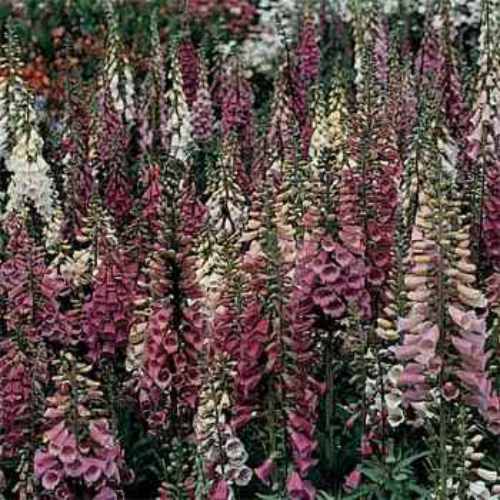 Foxglove (Digitalis Purpurea Foxy) - Colorful, prolific, and long-blooming, Foxglove Foxy is a reliable show-stealer in the early-summer garden, and they easily grow from flower seeds. These abundantly bushy plants produce big blooms of white, cream, yellow, and rosy-red. Many of the blooms have charming spots of red inside the bell-shaped tubes. And the best part? They appear just 5 months after sowing Foxglove seeds, so you can grow this lovely flower even in areas where it isn't hardy!
The Foxglove flowers are so freely formed that they crowd one another, overlapping for a very full, wonderfully colorful display. Because the buds open from the bottom of the plant up, the topmost are still closed when the lower flowers are in full bloom, increasing the color show of every stem!
Foxglove Foxy Digitalis is easy to grow from wildflower seed, and Foxy is the only variety that can be grown either as an annual or a biennial. Situate it in full sun (in Northern climates) or partial shade (in the South). Grow Digitalis Purpurea in rich, moist soil to begin blooming at just 18 inches tall (about 5 months from sowing seeds). Foxy is great in borders, beds, and open woodland gardens. Space the plants 12 - 18 inches apart. If growing as a biennial, it is hardy in zones 4 - 8. Sow Foxglove seeds outdoors, directly into prepared soil in the spring after danger of frost has passed.