Creeping Thyme Seeds - Wild
Groundcover Specifications
Season: Perennial
USDA Zones: 4 - 9
Height: 8 inches
Bloom Season: Summer
Bloom Color: Pink
Growth Rate: Moderate
Environment: Full sun to partial shade
Foot Traffic: Light
Soil Type: Well-drained, pH 5.8 - 6.8
Deer Resistant: Yes
Temperature: 70F
Average Germ Time: 14 - 21 days
Light Required: Yes
Depth: Do not cover the seed but press into the soil
Sowing Rate: Plant creeping thyme seed at 1/8 lb per 5,000 square feet
Moisture: Keep seeds moist until germination
Plant Spacing: 6 - 12 inches
Note: For detailed directions for indoor and outdoor planting, please Click Here
Care & Maintenance: Creeping Thyme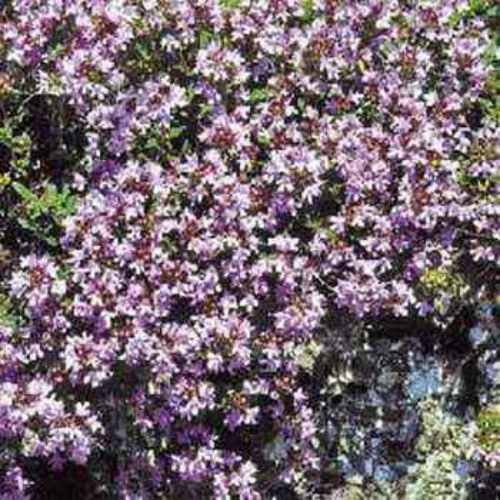 Creeping Thyme (Thymus Serpyllum) - Would you like a perennial ground cover plant that is an evergreen and very little maintenance? Look no further than Thymus Serpyllum seeds to grow a wonderfully hardy ground cover directly in the garden or border! Just 8 inches tall, Creeping Thyme ground cover plants are completely covered in 1/4 inch bells of carmine-pink for months on end. Butterflies love it and so will you! It is lemon-scented, with fine dark green foliage and slightly hairy leaves. Creeping Thyme will spread to 18 inches in width in no time at all.
Creeping Thyme does well in sunny beds, borders, rock gardens, and spilling over rock walls. Once it is established from ground cover seeds it is fairly drought tolerant. Creeping Thyme plants are tough enough to handle some light foot traffic, and both rabbits and deer do not bother it. Creeping Thyme self-sows readily, dropping it seeds after flowering season is over. This keeps a robust stand of Creeping Thyme ground cover thriving. In the fall, it can be sheared back to tidy it up.
Plant Creeping Thyme seeds directly outdoors after frost danger has passed. Prepare a seed bed, loosening the soil and weeding it. Scatter the Creeping Thyme ground cover seeds and press the seeds firmly into the soil. Keep the seeds consistently moist. If you want to get a jump start on the Creeping Thyme ground cover plants, sow the seed indoors 6 - 8 weeks before the last frost. Transplant the young seedling into the garden 6 - 12 inches apart.
Approximately 2,700,000 seeds per pound.