Sempervivum Seeds - Hybridum
Groundcover Specifications
Season: Perennial
USDA Zones: 3 - 10
Height: 2 - 4 inches
Bloom Season: Summer
Bloom Color: Mix
Growth Rate: Slow
Environment: Full sun to partial shade
Soil Type: Well-drained, pH 5.5 - 7.0
Deer Resistant: Yes
Latin Name: Sempervivum Hybridum
Temperature: 70 - 75F
Average Germ Time: 7 - 21 days
Light Required: Yes
Depth: Cover seed lightly with peat moss
Sowing Rate: Approximately 1000 seeds covers 20 square feet
Moisture: Keep seeds slightly moist but not wet until germination
Plant Spacing: 24 inches
Note: For detailed directions for indoor and outdoor planting, please Click Here
Care & Maintenance: Sempervivum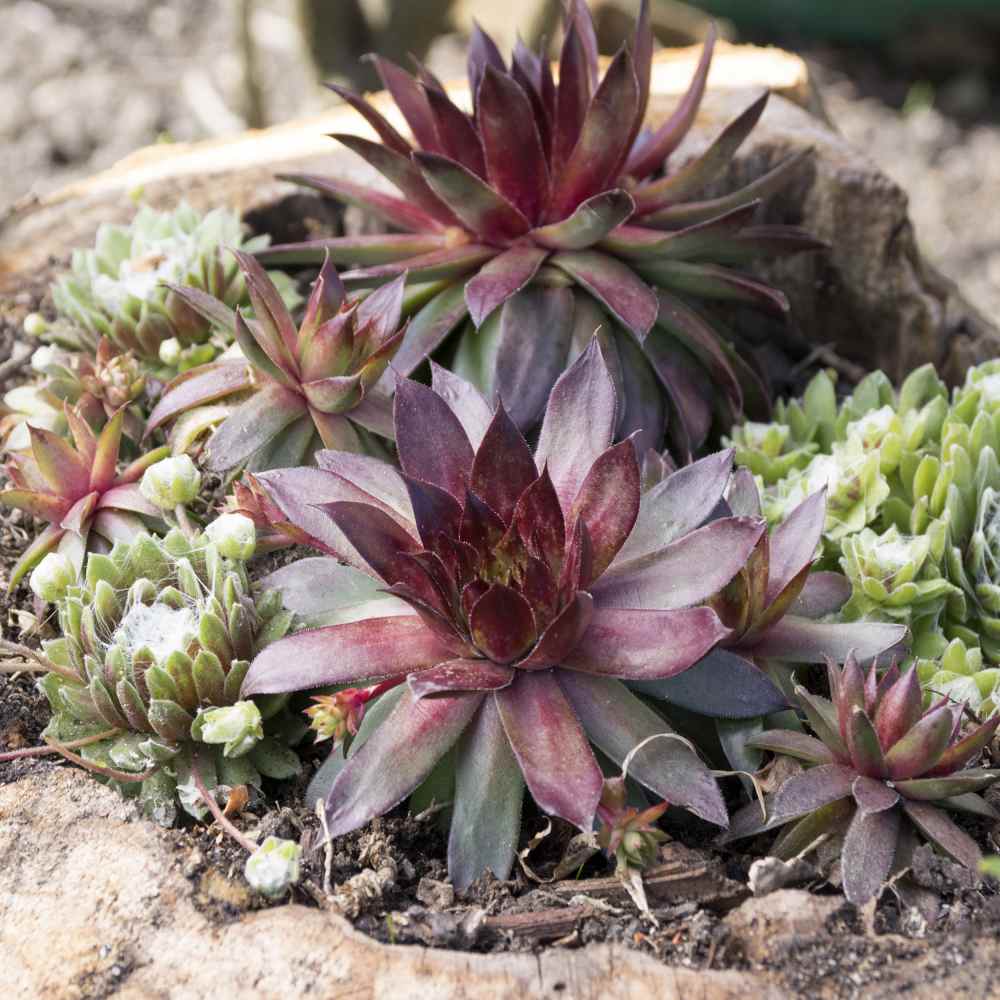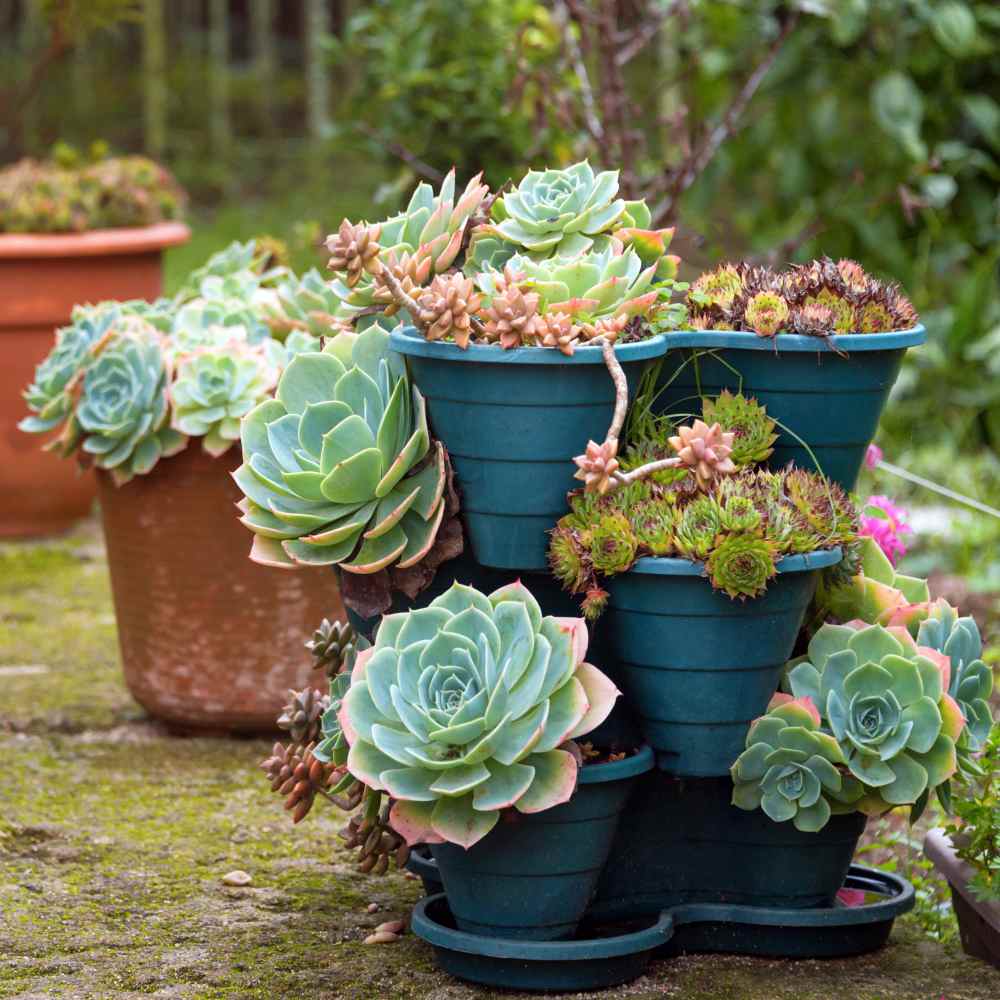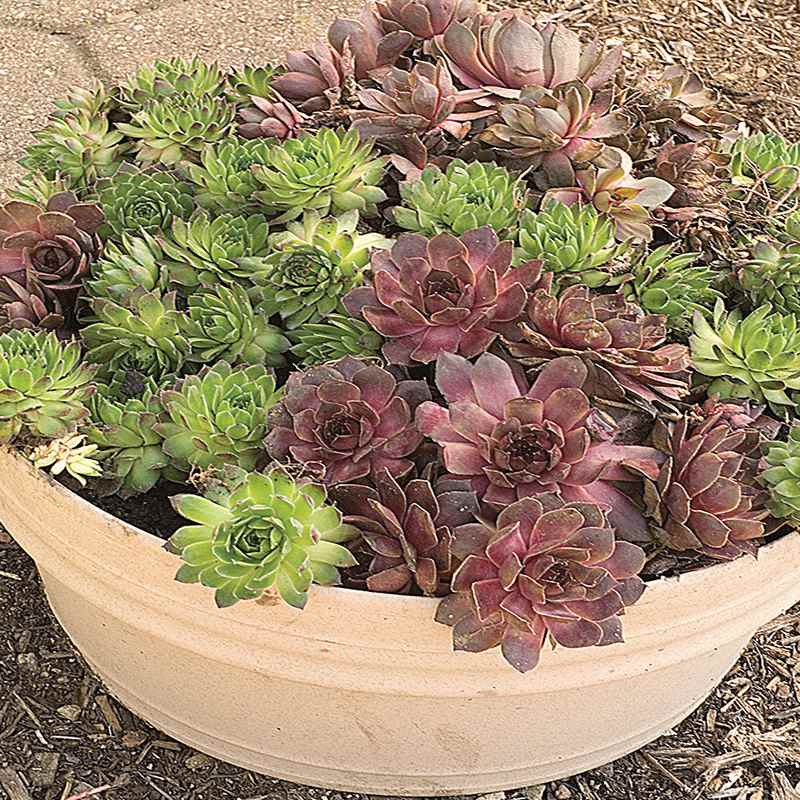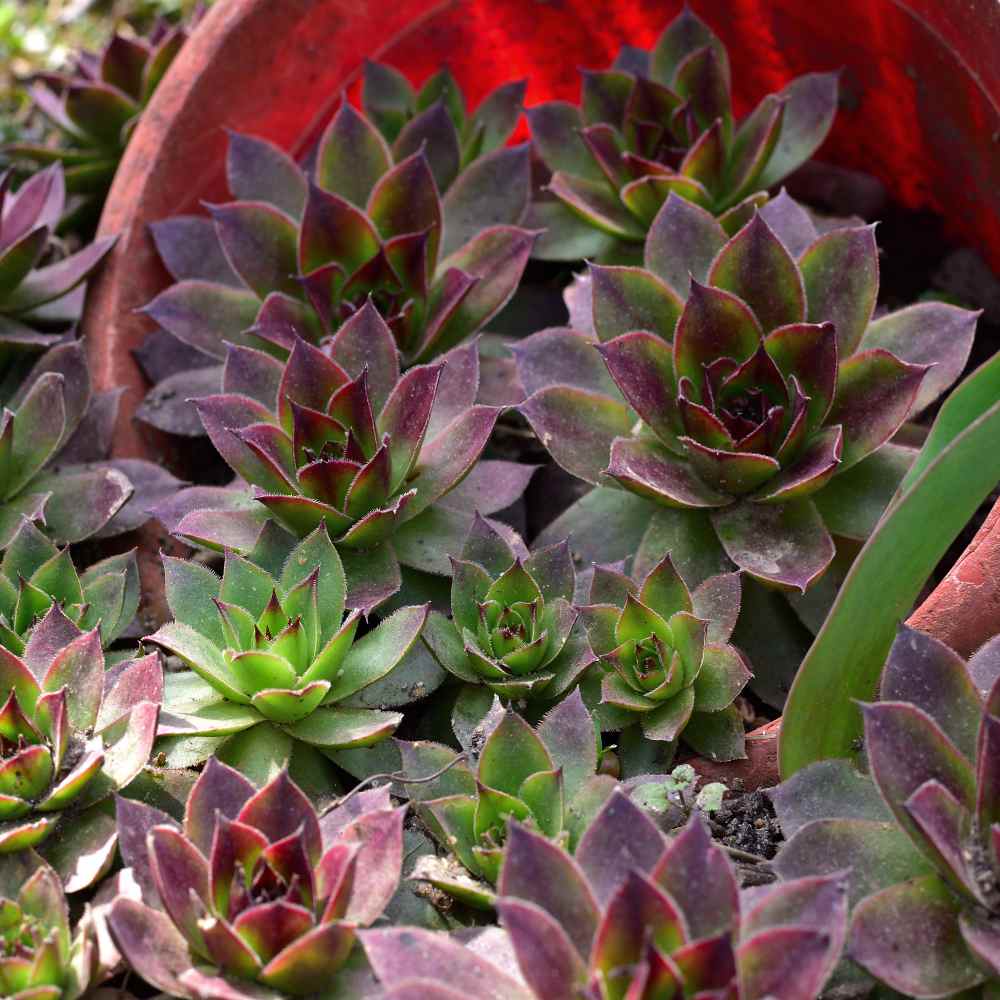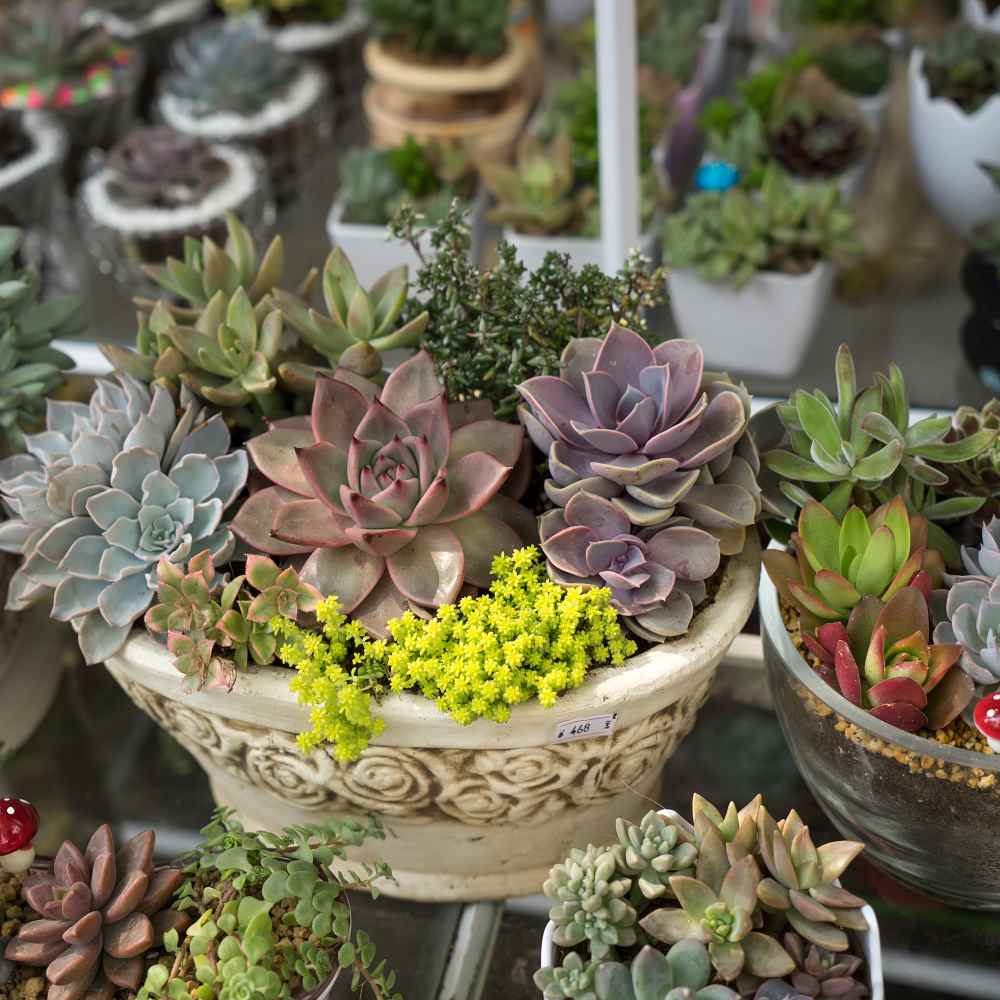 Sempervivum (Sempervivum Hybridum)
- Commonly called Hens and Chicks these unique ground cover plants are mat-forming succulents that produce clusters of rosettes. These Sempervivum seeds produce foliages of varying shades of green, gray, and even reddish shades. This low-growing ground cover has parent rosettes that are called the "hens" and the smaller rosettes that grow from the parents are called the "chicks." Sempervivum ground cover plants are grown for the succulent foliage, but it does produce 12 inch flower stalks in the summer with blooms of pink and lavender.
Grow Sempervivum succulent plants in full sun to partial shade and in well-drained soil. In the South, Sempervivum Hens and Chicks can profit from partial shade. The rosettes die after flowering but are replaced by new rosettes on lateral runners. Sempervivum is an old-time favorite used in concrete planters on either side of the front entry or as a great ground cover plant. Great in window boxes or niches. It needs little water or attention to thrive.
Mat-forming succulents
Will enhance any garden with eye-catching colors, shapes, and textures. These outdoor succulents are known for their charming appearance and extreme durability. They resemble an unfurled rose with accenets of colors and can form dense mats that accent gardens and arrangements.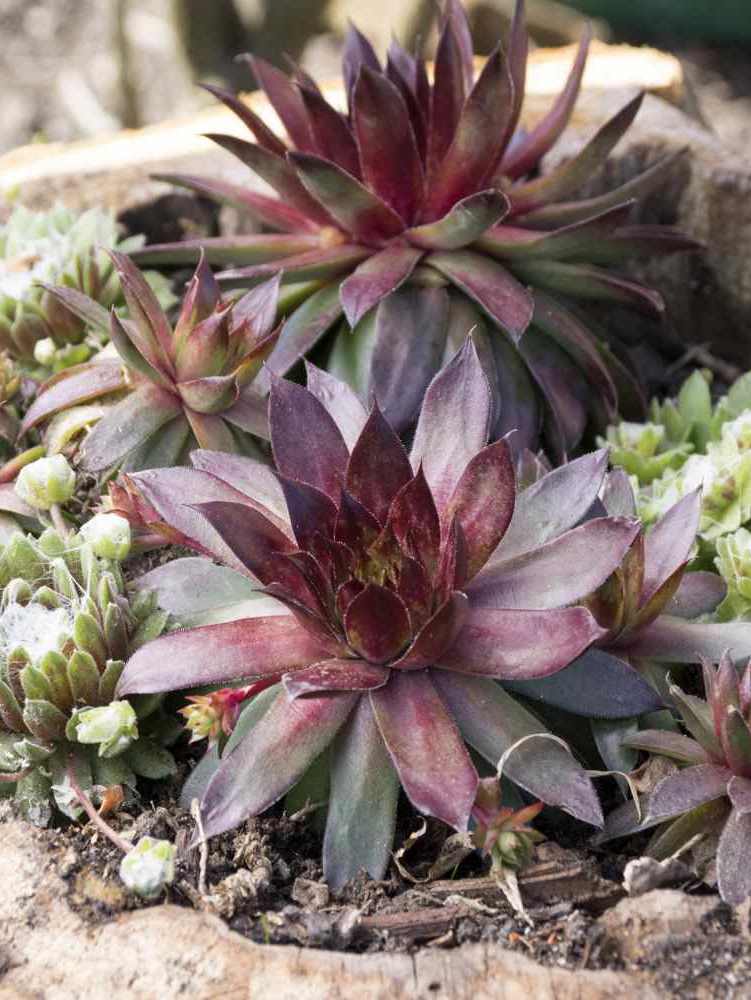 Sempervivum | hens and chicks
How to grow Sempervivum
Sow indoors in peat pots. Use a well-draining starter mix and press the seeds into the mix. Cover the seed very lightly with peat moss as the seeds need light to germinate. Keep seeds moist but not wet. If germination does not occur within 3 weeks, seal peat pots inside a zip-lock bag with plenty of air and refrigerate for 1 - 2 weeks Following the cold treatment, place the pots back in 70 - 75F temperatures. A cold treatment is not usually needed, but sometimes is needed to break germination
Sowing Rate: Approximately 1000 seeds covers 20 square feet
Average Germ Time: 7 - 21 days
Moisture: Keep seeds slightly moist but not wet until germination
Soil Type: Well-drained, pH 5.5 - 7.0
May require cold treatment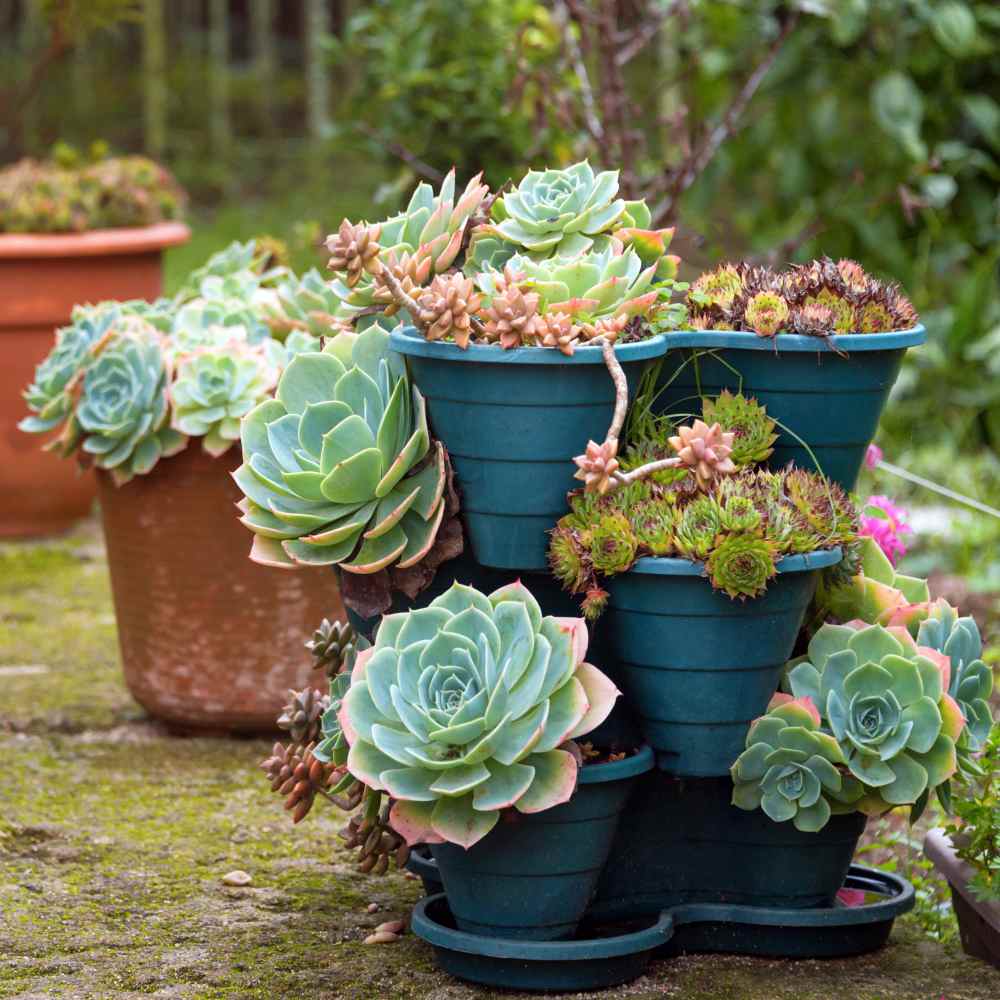 Plant Specifications
Sempervivum is an easy to grow evergreen perennial perfect for xeriscaping, in a mixed perennial border, or grown with other Mediterranean herbs. They are hardy to USDA Zone 6 and bloom all summer long with fragrant musky foliage. Hens and Chicks have been cultivated as far back as ancient Roman times. Romans grew them in vases in front of their houses.
Height: 2 - 4 inches
USDA Zones: 3 - 10
Season: Perennial
Deer Resistant: Yes