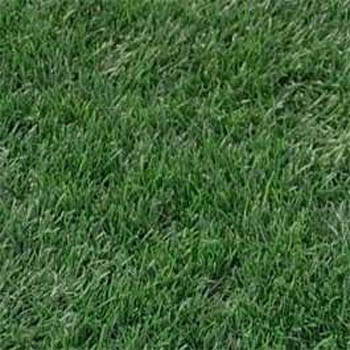 Growing Blackjack Bermuda seed rewards you with a fine-textured, carpet-like, dark green Bermuda Grass turf. Blackjack grass seed produces a top-quality seeded Bermuda grass that is perfect for the home lawn, parks or sports fields. Grow a Blackjack Bermuda grass lawn and enjoy the unsurpassed dark green color in a seeded Bermuda grass. This grass seed is also used for over-seeding an already established Bermuda turf. This vigorous, fine-bladed cultivar adds color and density to any warm-season blend. Blackjack lawn seed produces a sun-loving turf that performs throughout the hottest summer months, and in addition, Blackjack shows remarkable cold tolerance even in cold winter areas. If planting sprigs or plugs makes your back sore, consider Blackjack seeded Bermudagrass. You'll get a dense green lawn all summer long.
Choose Blackjack grass for:
Deep green color
Carpet-like density
Extra cold tolerances
Super-fine texture
Superior seedling vigor
Good shade tolerance compared to other Bermudagrasses
Good drought tolerance
Good traffic tolerance
Seeding Rate:
New Turf Applications: Sow 1 - 2 lbs. of Blackjack Bermuda Grass seed per 1000 sq. ft.
A Blackjack Bermuda Grass lawn can be maintained at mowing heights from 0.5 inches to 2 inches. Applying 3 to 5 pounds of nitrogen per 1000 square feet per growing season is adequate. Do not remove over 1/3 of the leaf blade per mowing for healthy turf.
Blackjack Bermuda Grass Adaptation: Across the Southern 1/3 of the U.S. Including Southern California, Arizona, New Mexico, Texas, Louisiana, Arkansas, Oklahoma, Alabama, Mississippi, Georgia, Florida, South Carolina, North Carolina, Virginia, Kentucky, Tennessee, and Hawaii.
USING THE QUICK GRASS SEED CALCULATOR:
Simply select your unit of measurment and enter your area value(s). The total square footage (if appropriate) and seed required to cover your area will be automatically calculated.

Coverage Type
Grass Type:
Coverage:

Coverage Area
Units:
Length:
ft.
Width:
ft.
Sq. Ft.:
Acres:

Grass Seed Options and Information:

Grasses Used in Your State:
You can look up to see what the most popular grasses used in your state are.

USDA Zone Map:
This is a USDA zone map specifically for your state so you can tell exactly what zone you are in.

Best Grasses For Your State:
This feature gives you a list of all the grasses that Outsidepride.com carries that are good for your state.

Grass Characteristics:
Start fine tuning your grass selection based on what priorities you are looking for: drought, shade, texture, water use, etc.

Grass Seed Calculator:
Can't figure out how much seed you need? No problem, go to this section to calculate your exact grass seed needs.

LazyMan Liquid Gold:
Provides a brief description of LazyMan Liquid Gold and gives you a link to learn more about this hugely popular product.

Choose your state below for grass seed info!