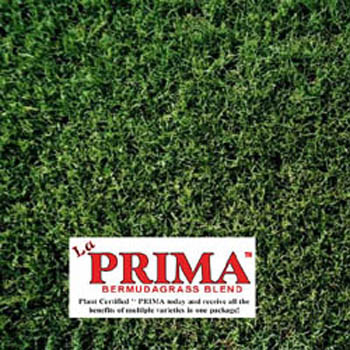 La Prima Bermuda grass seed is the best choice for your high profile project where fast germination, rapid establishment and excellent turf performance are required in full sun areas. It is the first certified blend of improved, turf-type seeded Bermuda grass varieties, and it quickly established a lush and attractive Bermuda grass lawn.
Includes:
Dune Bermuda grass seed
Royal Bengal Bermuda grass seed
The high performance varieties in LaPrima were chosen for their individual benefits and characteristics: to provide an extremely high quality turf grass surface in a shorter time, at less expense to the consumer and with easier maintenance requirements. LaPrima will outperform single seeded varieties in most situations. You can always count on LaPrima Bermuda grass seed blend to consist of the best Bermuda varieties available.
Bermuda Grass Is World-Renowned
Bermuda grass is the primary turf grass for much of the temperate and tropical world. Originating in Africa and India, this grass has the ability to withstand extremes in climatic and growing conditions around the world. "Common" Bermuda grass seed has been used for many years as a preferred turf surface for uses as diverse as professional sports fields, parks and home lawns. In recent years, plant breeders have devoted considerable efforts to improving the overall turf quality and performance of the seeded Bermuda grass species, Cynodon dactylon, in order to provide turf grass managers with an economic alternative to the high cost of installing and maintaining hybrid Bermuda grass sod.
Uses and Applications of Bermuda Grass
This scientifically formulated blend of the top performing seeded Bermuda grass varieties for lawn turf, delivers excellent results throughout the temperate, subtropical and tropical regions of the world. Recent research has also shown LaPrima Bermuda grass seed to be an excellent resource for the transition zone turf grass manager. LaPrima seed is especially designed for new plantings and use on golf course fairways, roughs and tees, municipal parks, commercial landscapes and all types of sports fields. This top quality turf-type Bermuda grass product is easily planted from seed, allowing for much faster and far less expensive turf-grass establishment, when compared to the popular vegetative Bermuda grass varieties. Certified Bermuda seed may be over-seeded into stands of common or other seeded Bermuda grass varieties to improve density, turf quality and overall turf grass performance. When a healthier, easier to maintain turf is desired, La Prima may be over-seeded into existing stands of medium textured hybrid or vegetative Bermudas.
Benefits of Annual Spring / Summer Bermuda Grass Over-seeding
Increased Bermuda Population: New Bermuda seedlings will establish and contribute to a higher quality mature turf appearance.
Improved Summer Transition: Correct inter-seeding practices will reduce ryegrass competition and increase soil temperature for faster Bermuda recovery.
Reduced Weed Infestations: More completely covered soil surface will reduce weed seed germination and establishment in summer months.
Improved Stress Tolerance: Seeded Bermudagrass for lawn turf is generally more salt, heat, drought, disease and insect tolerant than popular vegetative varieties.
Bermuda Grass Turf Quality
Genetically stable turf
Very uniform growth
Medium to fine texture
Increased salt tolerance
Fast germination & establishment
Increased turf density
Dark green color
Consistently high quality turf
Durable, wear tolerant turf
Tolerates poor quality & effluent water
Higher fertilizer efficiency
Withstands variable soil conditions
Certified Bermuda grass seed
Easy to maintain
Rotary or reel mowers
Disease and pest resistant
Diverse genetic origins
Drought tolerant
Bermuda Grass Seeding Rate & Planting Guide:
New turf: Sow 2 - 3 pounds of LaPrima Bermudagrass seed per 1,000 square feet or 120 - 160 lbs per acre.
Plant the lawn seed when soil temperature reaches 65 degrees in late spring/summer in full sun areas.
Plant shallow (1/4 inch or less). The turf seed needs light to germinate.
Germination time: 7 - 10 days to emerge and 14 - 21 days until completion.
Establishment time: 6 - 8 weeks for full establishment
Mowing Heights: 1/2" to 2" - 1st mowing at 3 - 4 weeks.
Winter over-seeding: not recommended for a newly established stand of La Prima Bermuda Grass. Established Bermuda can be over-seeded with ryegrass, poa trivialis, tall fescue, etc.
Year-round turf: In sub-tropical and tropical areas you will have year round turf. In other areas, over-seed for winter color.
Fertilization: Only fertilize the young Bermuda grass seed lawn if the early growth is weak or yellow. Approximately four weeks after seeding, apply a complete, balanced fertilizer to the newly established turf area. For faster coverage during the establishment year, a rate of 1 1/2 pounds of nitrogen per 1,000 square feet is recommended every month during the growing season.
| | |
| --- | --- |
| | The Grass Seed Certification program establishes the genetic purity and germination of varieties, blends, and mixtures. The certification process begins with the proper field history before production and continues through the bagging of a grass seed lot with every step independently verified by Seed Certification personnel. Each bermuda grass seed lot to be certified is sampled by Certification personnel and tested in the state seed laboratory, so the grass seed you buy is the seed that was tested If even one standard in this process failed, the lot is uncertified. You can rest assured that your bermuda grass seed is certified! |
USING THE QUICK GRASS SEED CALCULATOR:
Simply select your unit of measurment and enter your area value(s). The total square footage (if appropriate) and seed required to cover your area will be automatically calculated.

Coverage Type
Grass Type:
Coverage:

Coverage Area
Units:
Length:
ft.
Width:
ft.
Sq. Ft.:
Acres:

Grass Seed Options and Information:

Grasses Used in Your State:
You can look up to see what the most popular grasses used in your state are.

USDA Zone Map:
This is a USDA zone map specifically for your state so you can tell exactly what zone you are in.

Best Grasses For Your State:
This feature gives you a list of all the grasses that Outsidepride.com carries that are good for your state.

Grass Characteristics:
Start fine tuning your grass selection based on what priorities you are looking for: drought, shade, texture, water use, etc.

Grass Seed Calculator:
Can't figure out how much seed you need? No problem, go to this section to calculate your exact grass seed needs.

LazyMan Liquid Gold:
Provides a brief description of LazyMan Liquid Gold and gives you a link to learn more about this hugely popular product.

Choose your state below for grass seed info!