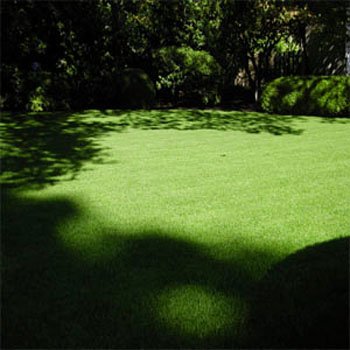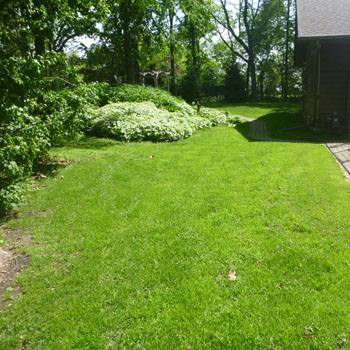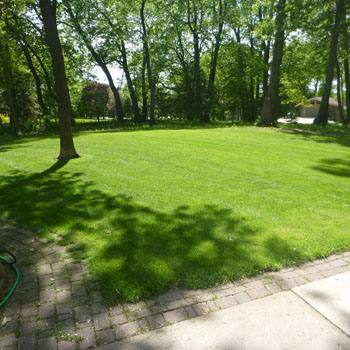 Supranova Poa Supina is the elite shade grass for dense shade in cool season areas. This is the best primo shade lawn grass on market today. It is specially designed for deep shade and little water although it has been used for golf courses, lawns, and athletic field turf for over twenty years. Supranova shade grass has been developed over the last 20 years and the breeding keeps improving.
No other species outperforms this variety in the shade. It grows where no grass has grown before. It's wear tolerance and aggressive growth make it ideal high maintenance and high wear areas. Today Supranova Poa supina shade grass seed produces the most shade tolerant, wear resistant, cool season grass on the market.
Poa Supina is well adapted to cold temperatures and is found commonly in the sub-alpine regions of the German and Austrian Alps. In Germany, the common name is Lägerrispe, which means, "where the cows lay". The name is a reflection of the ability of Poa supina to persist and even thrive on cattle trails, even in shaded woodland areas. Another attractive asset is the apparent resistance of Poa supina to many diseases which results in fewer fungicide applications. Unfortunately, the cost of grass seed for shade is quite high; therefore, the practicality of seeding mono-stands of the grass is often economically unfeasible. Evidence from Germany suggests relatively low rates (e.g., less than 10%) of Poa supina seed can be mixed with other cool season grasses and after several years of heavy traffic the stand will be predominantly Poa supina, providing superior coverage compared to stands without Poa supina.
USING THE QUICK GRASS SEED CALCULATOR:
Simply select your unit of measurment and enter your area value(s). The total square footage (if appropriate) and seed required to cover your area will be automatically calculated.

Coverage Type
Grass Type:
Coverage:

Coverage Area
Units:
Length:
ft.
Width:
ft.
Sq. Ft.:
Acres:

Grass Seed Options and Information:

Grasses Used in Your State:
You can look up to see what the most popular grasses used in your state are.

USDA Zone Map:
This is a USDA zone map specifically for your state so you can tell exactly what zone you are in.

Best Grasses For Your State:
This feature gives you a list of all the grasses that Outsidepride.com carries that are good for your state.

Grass Characteristics:
Start fine tuning your grass selection based on what priorities you are looking for: drought, shade, texture, water use, etc.

Grass Seed Calculator:
Can't figure out how much seed you need? No problem, go to this section to calculate your exact grass seed needs.

LazyMan Liquid Gold:
Provides a brief description of LazyMan Liquid Gold and gives you a link to learn more about this hugely popular product.

Choose your state below for grass seed info!
We have gone the extra mile to include 25% of Poa supina in our shade grass blend so you get faster results and better performance. We blend it with Rough Bluegrass which is also very shade tolerant. Rough Bluegrass thrives when cool, moist conditions prevail which is your typical Northern Climate shade. Rough Bluegrass seed produces a fine-textured turf grass and develops a high shoot density under cool, moist conditions. It is capable of withstanding a considerable amount of shade. It is one of the most winter hardy turf grasses with very good low temperature tolerance. When you combine Rough Bluegrass and Poa supina into one blend, you get the absolute best grass seed for shade for cooler climates at an economical price.
This mixture approximately contains the following:
25% Poa Supina Bluegrass
75% Poa Trivialis Rough Bluegrass
Characteristics
Germination: This shade grass seed typically germinates in 14 - 21 days.
Growth habit: Poa supina shade grass and Rough Bluegrass have upright growth habit with a slow vertical growth. Spreads by stolons. When left unmowed, height of foliage is 6 inches with seed head height 10 to 12 inches.
Adaptation: Poa supina and Rough Blue grass adapt well to shaded conditions and high traffic areas where soil compaction occurs. Very competitive with other grasses in situations of frequent mowing and traffic.
Mowing: After Poa supina shade grass reaches 2" mow for the first time. After this it may be mowed as low as 3/16 of an inch.
Disease: This Blue grass seed blend has excellent resistance to disease such as snow molds, dollar spot, red threads, and other pathogens.
Seeding Rate & Planting Time
New turf: Sow 2 - 3 pounds shade grass seed per 1,000 square feet or 80 - 120 lbs per acre
Plant Poa supina shade grass blend when soil temperature reaches 55 degrees in spring up until a minimum of 12 weeks before frost in fall