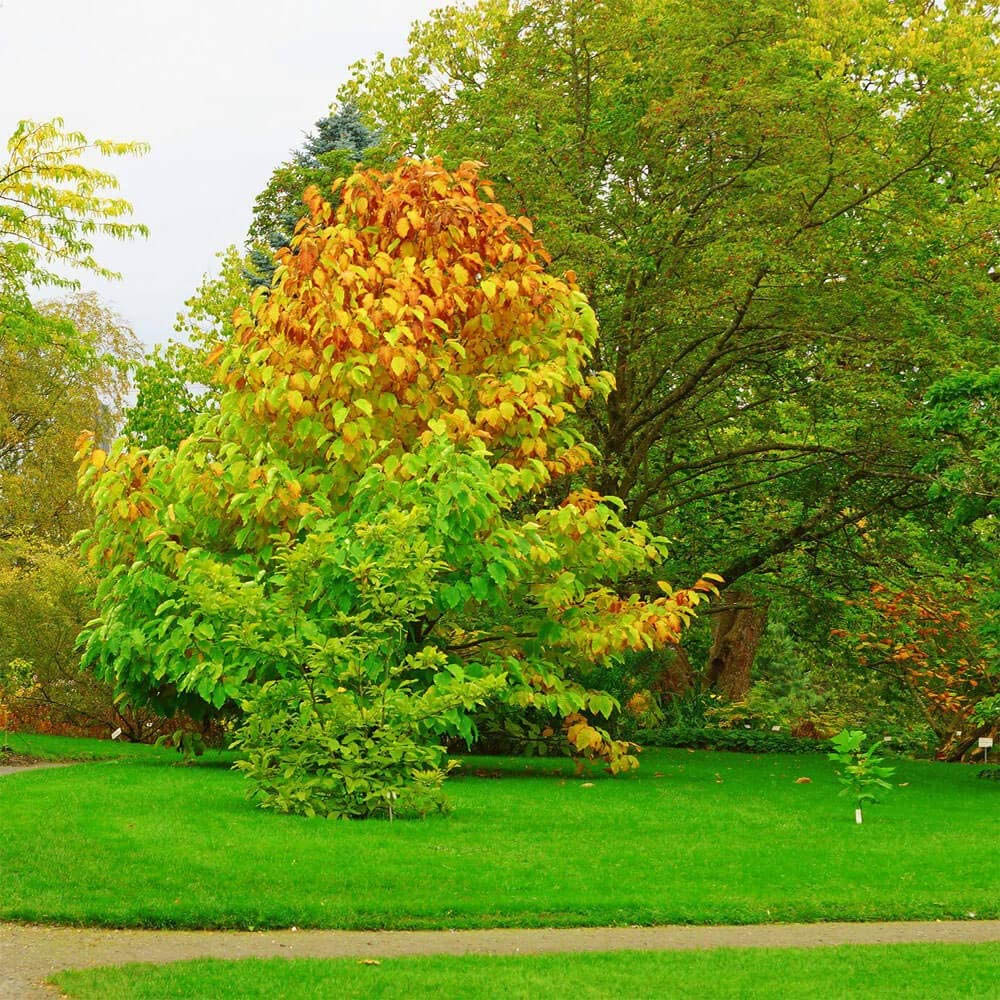 Oxford and/or Eureka II hard fescue grass is one of the best hard fescues on the market today. It has been selected as a low growing fine fescue with a darker green color which makes it a premium grass for both low maintenance sites and as part of a high quality lawn mix. In addition, Oxford and/or Eureka II fescue grass seed contains very high levels of viable endophyte. The endophyte is a fungus that lives between the plant cells and provides hard fescue with natural insect resistance and the ability to persist in adverse environmental conditions. It is also a good grass seed for shade conditions. Hard fescue uses range from erosion control, creating a naturalized area that will not be mowed or maintained, as well as a fine fescue lawn.
Endophyte-Enhanced
Oxford and/or Eureka II contains high levels of viable endophytes. The presence of these high levels provides many benefits that make this grass seed particularly valuable for use in those sites where chemical applications are limited. The presence of the endophyte has been shown to provide resistance to a number of important turf insects including: billbugs, sod webworms, chinch bugs, and armyworms. In addition, endophyte-enhanced cultivars during high stress periods have demonstrated increased vigor, reduced weed invasion, rapid recovery from injury, improved persistence, greater density, and increased heat and drought tolerance. The presence of the endophyte makes hard fescue grass seed even better adapted to the droughty, low maintenance sites.
Disease Resistance
Oxford and/or Eureka II hard fescue grass has shown high resistance to many common turf diseases including leafspot, red thread, summer patch, pink patch, netblotch, powdery mildew, leaf rust, and dollar spot. This combination of disease and insect resistance contributes to its superior performance in the shade and makes hard fescue grass perfect for environmentally sensitive areas where chemical applications may be limited.
Outstanding Turf Quality
Superior for overall quality grown under shade
Dark green genetic color
Very fine leaf texture
Very good mowing qualities
Excellent disease resistance
Excellent red thread and dollar spot resistance
Excellent drought tolerance
Very good wear and traffic tolerance
Excellent spring green-up and density
Seeding Rate & Planting Time
New turf: Sow 4 - 5 pounds hard fescue grass seed per 1,000 square feet or 160 - 200 lbs/acre for broadcast seeding
Over-seeding: Sow 2 - 2 1/2 pounds hard fescue grass seed per 1,000 square feet or 80 - 100 lbs per acre for broadcast over-seeding
Plant cool climate grass seed when soil temperature reaches 55 degrees in spring up until a minimum of 8 weeks before frost in fall
USING THE QUICK GRASS SEED CALCULATOR:
Simply select your unit of measurment and enter your area value(s). The total square footage (if appropriate) and seed required to cover your area will be automatically calculated.

Coverage Type
Grass Type:
Coverage:

Coverage Area
Units:
Length:
ft.
Width:
ft.
Sq. Ft.:
Acres:

Grass Seed Options and Information:

Grasses Used in Your State:
You can look up to see what the most popular grasses used in your state are.

USDA Zone Map:
This is a USDA zone map specifically for your state so you can tell exactly what zone you are in.

Best Grasses For Your State:
This feature gives you a list of all the grasses that Outsidepride.com carries that are good for your state.

Grass Characteristics:
Start fine tuning your grass selection based on what priorities you are looking for: drought, shade, texture, water use, etc.

Grass Seed Calculator:
Can't figure out how much seed you need? No problem, go to this section to calculate your exact grass seed needs.

LazyMan Liquid Gold:
Provides a brief description of LazyMan Liquid Gold and gives you a link to learn more about this hugely popular product.

Choose your state below for grass seed info!