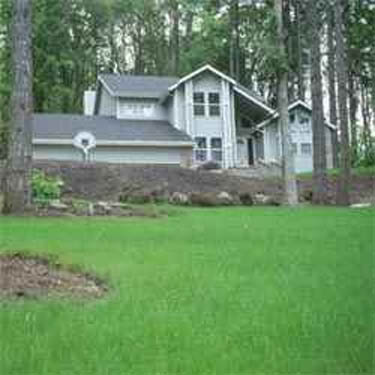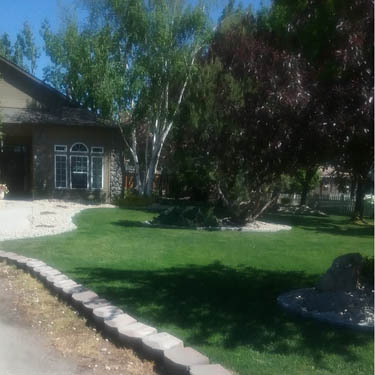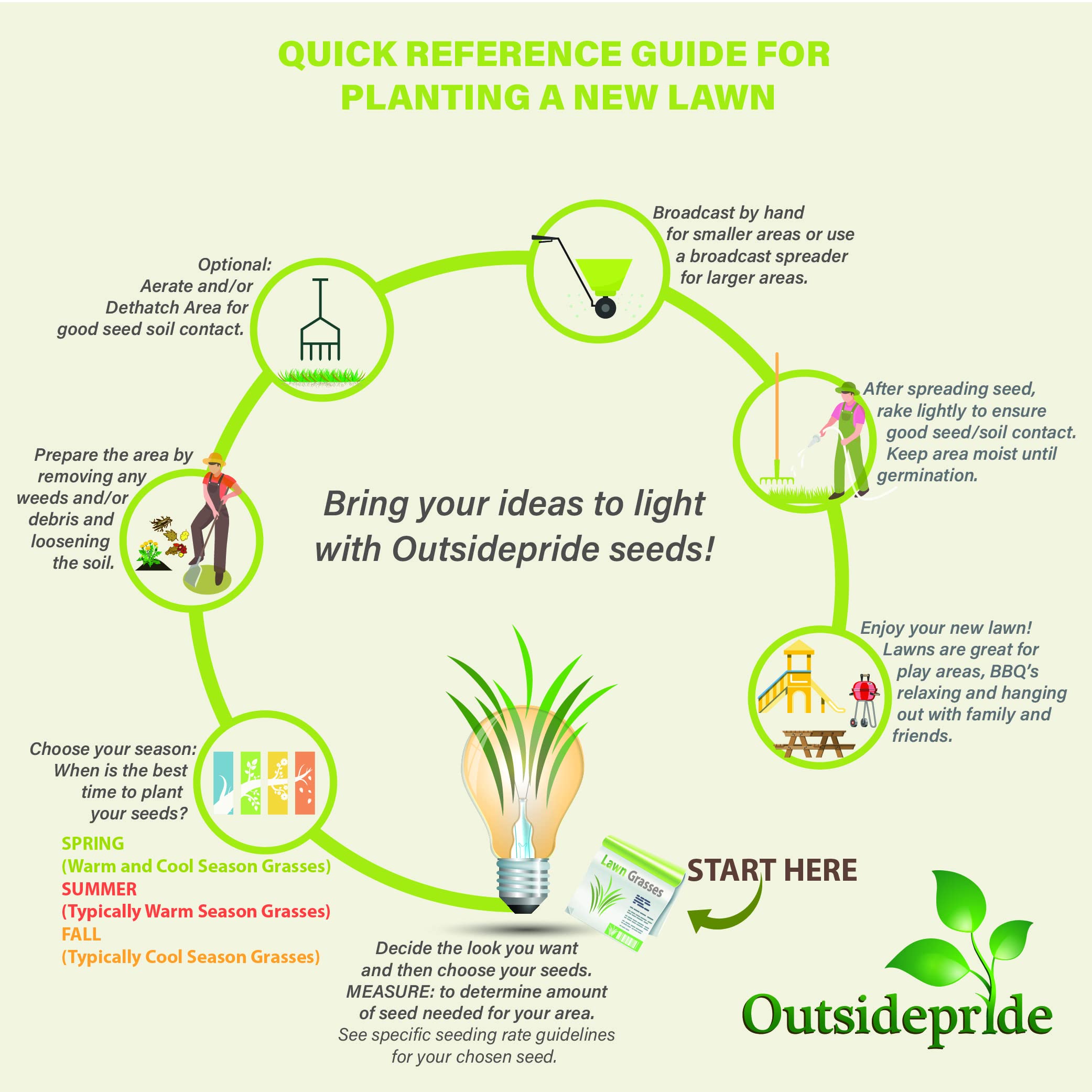 "Showtime" is an appropriate name for this bluegrass, ryegrass, creeping red fescue mixture. This mixture is shade tolerant and wear tolerant for the perfect turf to play volleyball, badminton, croquet, or other outdoor sports on. This mixture makes a soft lawn or sports field that is easy and comfortable to walk on barefoot. If you have a Showtime lawn your neighbors will want one too! Your mixture will consist of one variety of ryegrass, one variety of bluegrass, and one variety of creeping red fescue from the list below specifically selected for the North Half of the U.S. (USDA Zones 4 - 7).
This mixture approximately contains the following:
50-55% Ryegrass
25-30% Fine Fescue
20% Kentucky Bluegrass
When you combine ryegrass, bluegrass, and creeping red fescue into a blend, you get a soft, fine-bladed, dark green lawn that is durable yet luxurious.
Private Perennial Ryegrass
Private is a new generation, heat and disease tolerant, decumbent, very dark green, photoperiod sensitive, endophyte enhanced (>90%) perennial ryegrass variety. Private can be utilized in all perennial ryegrass applications but will be promoted in the transitional climates where heat and disease have been limiting factors to permanent perennial ryegrass turf utilization. Private forms a leafy fine textured turf with rapid seedling germination, excellent traffic tolerance and polyspecies compatibility. Plant growth of perennial ryegrass is dominated by aggressive basal tillering in contrast to vegetative stolons (above ground) and rhizomes (below ground).
Fireball Perennial Ryegrass
Fireball is an elite, new and improved, heat and disease tolerant, very dark green, fine bladed variety. Fireball is an endophyte enhanced perennial ryegrass with >94% Neotyphodium lolii endophyte which provides resistance to a number of leaf and crown feeding insects and nematodes. It is highly recommended for permanent turf utilization in areas where heat and humidity may limit the adaptation of perennial ryegrass turf. In addition Fireball is recommended for winter overseeding of dormant warm season turfgrass species. Plant growth of perennial ryegrass is dominated by aggressive basal tillering in contrast to vegetative stolons (above ground) and rhizomes (below ground).
TeeLee Perennial Ryegrass
A brand new perennial ryegrass released from Bailey Seed Company, TeeLee is showing outstanding growth characteristics, disease resistance, stress tolerance, and recuperative characteristics in East Coast states and the surrounding area. TeeLee ranked very high in the lastest NTEP trials for multiple categories.
Creeping Red Fescue
Creeping red fescue is a very dark green, fine-leaf textured, aggressively rhizomatous variety of strong creeping red fescue. It exhibits an upright-crown growth habit and remains distinctly dark green and is aesthetically pleasing when managed under moderate drought stress. Fine Fescue has excellent seedling vigor and is best adapted to shady sites where low fertility and moderately low soil pH conditions dominate. Fine fescues require soil with good internal drainage for optimal turf performance.
Kentucky Bluegrass
Probably the most outstanding feature of Kentucky bluegrass is its extreme cold tolerance. That is why we have added it to our Showtime blend for the areas where cold tolerance can be of the utmost importance. Its high tiller density provides a thick carpet that will stand up to the abuses of athletic fields and high traffic. Bluegrass blends well with other grasses and makes it softer in appearance and more dense. It is wear tolerant and repairs itself by rhizomes improving its turf density. Bluegrass also provides a dark blue-green color that when added to perennial rye grass and creeping red fescue creates a richly colored turf.
Seeding Rate & Planting Time
New turf: 4 - 6 pounds per 1,000 square feet or 160 - 240 lbs/acre for broadcast seeding
Overseeding: 2 - 3 pounds per 1,000 square feet or 80 - 120 lbs/acre for broadcast overseeding
Plant when soil temperature reaches 55 degrees in spring up until a minimum of 8 weeks before frost in fall