Saxifraga Seeds - Rose Robe
Groundcover Specifications
Season: Perennial
USDA Zones: 4 - 9
Height: 6 inches
Bloom Season: Early summer
Bloom Color: Rose
Growth Rate: Moderate
Environment: Full sun to partial shade
Foot Traffic: Light
Soil Type: Well-drained, pH 6.6 - 7.8
Deer Resistant: Yes
Temperature: 59 - 68F
Average Germ Time: 21 - 30 days
Light Required: Yes
Depth: Do not cover the seed but press into the soil
Sowing Rate: Approximately 2000 seeds covers 40 square feet
Moisture: Keep seeds moist until germination
Plant Spacing: 9 - 12 inches
Note: For detailed directions for indoor and outdoor planting, please Click Here
Care & Maintenance: Saxifraga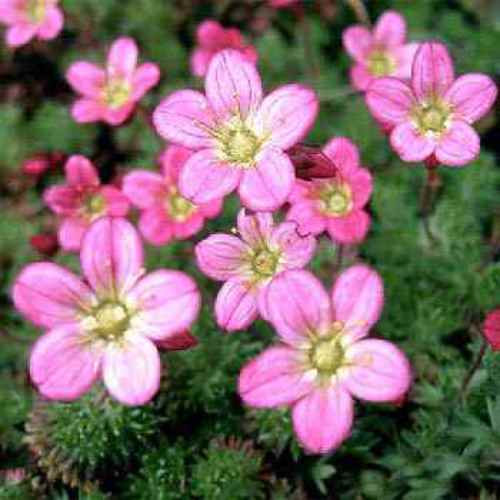 Saxifraga (Saxifraga Arendsii Rose Robe) - What a charming little ground cover plant for cooler climates! Saxifraga seeds readily establish, and this perennial does well edging a border, spilling over a wall, or in containers. Often called Moss Saxifraga or Mossy Saxifrage, it forms a low evergreen mound of bright green leaves that bear short stems of small cup-shaped rose-pink flowers. Rose Mossy Saxifrage prefers cool growing conditions and does not tolerate drought or hot humid weather. In warmer zones, make sure it gets afternoon shade. Saxifraga care includes trimming back the stems once their flowers fade to neaten the ground cover plants, but no other trimming is needed during the year. Rose Saxifraga will self-seed but not to the point of crowding.
How To Grow Mossy Saxifrage: Sow Saxifraga seeds directly outdoors in either the fall or the spring. Prepare soil by loosening the top 1 - 2 inches and weeding. Saxifraga plants prefer well-draining soil, so amend soil if needed, adding sand or fine grit. The soil pH preferably should be mildly alkaline. Sow the Saxifraga ground cover seeds on the surface, lightly walking over the seeds to help make good contact with the soil. Keep the ground cover seeds constantly moist until germination occurs. Saxifraga plants like sun, but as they are germinating and establishing protect from direct sunlight.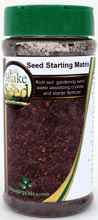 Shake 'n Seed - We are now offering shaker bottles filled with our seed starting matrix: rich soil, gardening sand, water absorbing crystals, and starter fertilizer. This not only helps dispense your seed, but it gets it off to a great start! Simply remove lid from shaker bottle, add seed from packet, put back on lid, shake the bottle vigorously for 15 seconds, and then shake your way to beautiful new plants! Use Shake 'n Seed over good quality soil, and then gently water to keep seed moist until it sprouts. Great for ground covers or mass planting flower seeds.