Erigeron Seeds - Macranthus
Season: Perennial
USDA Zones: 5 - 9
Height: 28 inches
Bloom Season: Summer and fall
Bloom Color: Blue
Environment: Full sun to partial shade
Soil Type: Well-drained, pH 6.1 - 7.8
Temperature: 60F
Average Germ Time: 14 - 30 days
Light Required: Yes
Depth: Do not cover
Sowing Rate: 4 seeds per plant
Moisture: Keep seeds moist until germination
Plant Spacing: 12 - 24 inches
Care & Maintenance: Erigeron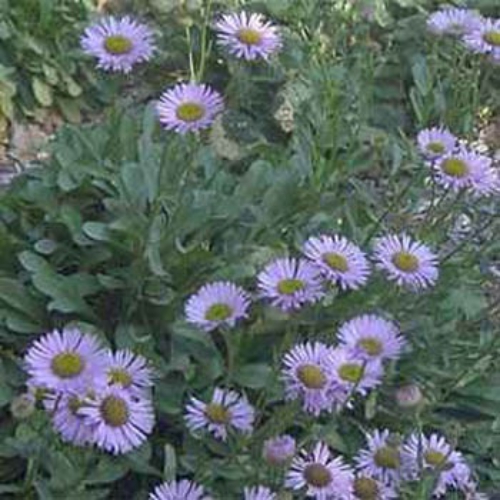 Erigeron (Erigeron Speciosus Macranthus) - Erigeron Macranthus, also known as Aspen Fleabane, grows to approximately 28 inches tall with clear blue flowers and a slightly yellow center. Use Erigeron in the front of flower gardens, rock gardens, and containers. It is great for cutting, and it will attract lots of attention from butterflies. Erigeron is easy to grow from flower seeds, and once it is established, it is versatile and hardy. Avoid excessive watering. This flower needs a few days between one watering and the other. Watering deeply with a bucket of water every two to three weeks is plenty of water for this plant. Deadhead plants to extend blooming period.
Erigeron Speciosus Macranthus should be planted where it gets at least a few hours each day of sunlight. During the fall/winter months, you don't need to worry about minimum temperatures. In fact, Erigeron can bear temperatures a few degrees below zero. If temperatures get even colder than zero, you can protect the plant by covering its roots with dry leaves or straw.
Sow Erigeron seeds indoors 4 - 6 weeks before last frost. Use sterile starter mix and sow the flower seeds onto the mix. Do not cover the seeds because they do need light for germination. Transplant seedlings when temperature are warmed up. For directly sowing Aspen Fleabane seeds outdoors, wait until frost danger has passed and directly spread flower seeds onto prepared beds. Keep the flowers seeds moist but do not cover.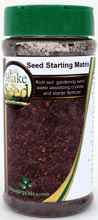 Shake 'n Seed - We are now offering shaker bottles filled with our seed starting matrix: rich soil, gardening sand, water absorbing crystals, and starter fertilizer. This not only helps dispense your seed, but it gets it off to a great start! Simply remove lid from shaker bottle, add seed from packet, put back on lid, shake the bottle vigorously for 15 seconds, and then shake your way to beautiful new plants! Use Shake 'n Seed over good quality soil, and then gently water to keep seed moist until it sprouts. Great for ground covers or mass planting flower seeds.