Groundcover Specifications
Season: Perennial
USDA Zones: 4 - 8
Height: 6 inches
Width: 12 - 18 inches
Bloom Season: Late spring to early summer
Bloom Color: White
Growth Rate: Fast
Environment: Full sun to partial shade
Foot Traffic: Light
Planting Directions
Temperature: 60 - 75F
Average Germ Time: 14 - 30 days
Light Required: Yes
Depth: Seed should be surface sown and if covered, covered very lightly with medium
Soil Type: Well-drained soils, pH 5.8 - 7.2
Sowing Rate: 5 - 6 seeds per plant or 500 seeds per 10 square feet
Moisture: Constant moisture must be maintained until germination
Plant Spacing: 16 inches
Note: For detailed directions for indoor and outdoor planting, please Click Here
Care & Maintenance: See: Strawberry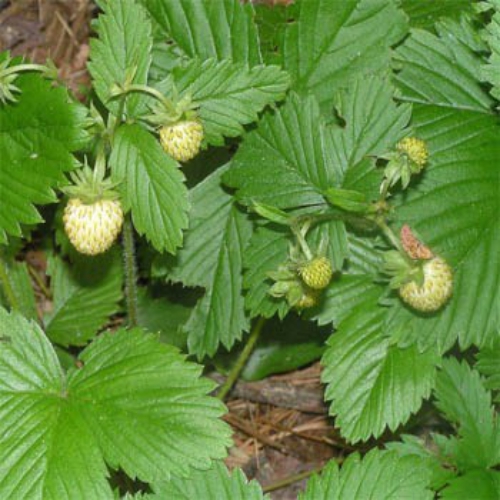 Wild Strawberry - White Soul (Fragaria Vesca White Soul) - If you want a vigorous perennial ground cover plant, grow Strawberry seeds! These hardy perennials provide fresh strawberries in small spaces. Fragaria white Strawberry produces ongoing blooms and delicious white berries. This Strawberry plant produces a heavy crop with the same leaf size and structure as red Strawberry varieties. White Strawberry plants do not spread with runners, and their berries are very sweet and have a hint of pineapple in their taste. The flowers and fruit continue all season and the plants make great edgings for gardens. Birds are said to not eat the white Strawberries like they are known to eat the red varieties.
Growing Fragaria Vesca From Seed: Sow the Fragaria white Strawberry seeds from January to April indoors. Use quality seed starter mix, and small pots or starter trays. Sow the Fragaria Vesca white seeds on the surface and press the seed into the mix. Keep the soil damp but not wet, and seal the starter tray or pots inside a plastic bag until after germination. When the Strawberry seedlings are large enough to handle, transplant them into 3 inch pots, and grow them on in cooler conditions until large enough to plant outdoors. After all danger of frost has passed, harden the young white Strawberry plants over a period of 7 - 10 days before planting outdoors in their permanent location.
Shaker Bottle With Seed Starting Matrix

Shake 'n Seed - We are now offering shaker bottles filled with our seed starting matrix: rich soil, gardening sand, water absorbing crystals, and starter fertilizer. This not only helps dispense your seed, but it gets it off to a great start! Simply remove lid from shaker bottle, add seed from packet, put back on lid, shake the bottle vigorously for 15 seconds, and then shake your way to beautiful new plants! Use Shake 'n Seed over good quality soil, and then gently water to keep seed moist until it sprouts. Great for ground covers or mass planting flower seeds.